Get to know Rachel Balestri, Mortgage Lender
Slow down…enjoy this time!! Don't rush into anything. Find a job you love.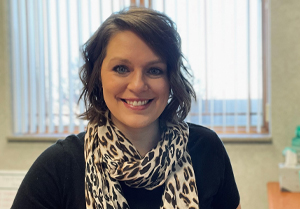 Before Eureka, what other jobs did you have?
I started working the day I turned 16 at Farm and Fleet in Ottawa. I worked there until I left the area to do an internship through High School in Springfield. I came back and worked at R'Grotto and Starved Rock Harley Davidson, until I was 19 and I started working in the Loan Dept of a local bank while I attended college at IVCC. I was hired to file insurance with them and over the years worked my way through different areas of the loan department. I worked there for 15 years, before joining the Eureka Savings Bank team in 2018 as a Lender in Peru.
What are your responsibilities at Eureka?
I am the Lender in our Peru Office, handling our residential mortgages—Purchases, Refinances, New Construction and Home Equity Loans. I also do our consumer loans as well, which include Auto, Personal and Deposit Secured loans.
Tell us a little about yourself outside of work?
I am married and have 4 children aged 18, 15, 9 and 1.5. They keep us very busy with sports, school activities and being a typical toddler. We all love to travel together, and we are very much looking forward to warmer temps and spending time together outdoors and poolside!
What kind of advice would you have for a soon to be college graduate?
Slow down…enjoy this time!! Don't rush into anything. Find a job you love. As Steve Jobs stated- "Your work is going to fill a large part of your life, and the only way to be truly satisfied, is to do what you believe is great work. And the only way to do great work, is to love what you do. Don't settle, you'll know when you have found it."