Signing up is easy as 1-2-3!
Log into your Online Banking account - Just enter your username and password in the upper left corner of our website. New to Online Banking? Sign up here.
Select "Accounts >Statements>Statement Preference" - Accounts can be found in the top left of the menu bar.
Change Paper Statements to eStatements and Save! – Under "Statement Delivery Method" choose "change all accounts to online", check the box after you read and agree to the Statement Service Agreement and Disclosure and click "Submit". Next step is to demonstrate you can receive eStatements electronically by opening the PDF document and copying the code from the document into the corresponding box. You're all set! (You can also choose which accounts you would like eStatements for by clicking on the drop down next to the statement delivery method of each account and choosing "Online".)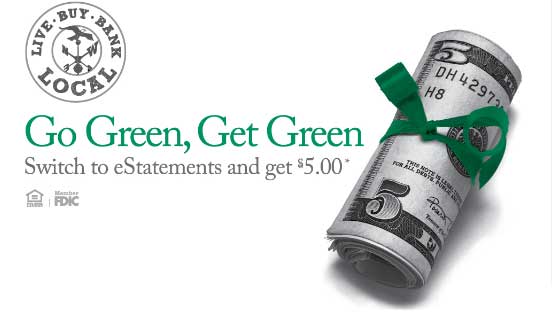 Now that you've signed up for eStatements you can view up to 18 months of statement history anytime by simply logging into Online Banking and going to Accounts>Statements>View Statements. You're also able to print and save your statements & we'll e-mail you every month to let you know your most recent statement is ready.
Switch to eStatements today and receive $5.00*
For a limited time, we are offering a $5.00 credit to customers that are new to eStatements. Complete the 3 easy steps above and call to let us know you're done. Once we verify you've successfully signed up for eStatements, we will give you a $5.00 credit.