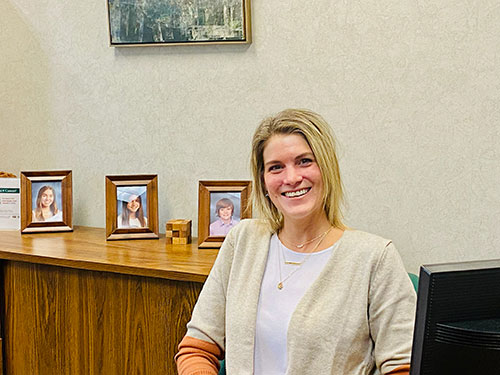 Before Eureka, what other jobs did you have?
I have had the pleasure of working for Eureka Savings Bank for the last 20 years, prior to that, I was a commercial loan processor at another financial institution and working part time as a waitress at a local establishment.
What are your responsibilities at Eureka?
As Vice President of Lending, I oversee all our Residential and Consumer lenders, as well as provide our customers with the information they need to finance their home or vehicle. I am also actively involved with La Salle Rotary, Illini Valley Association of Realtors, LPHS Booster Club and volunteer at Feed His Children and PADS.
Tell us a little about yourself outside of work
I reside in Peru with my husband, Steve, and our 3 children, Olivia (18); Phoebe (15) and Erin (11), who are involved in many different sports and keep us very busy! I love watching them participate and seeing their growth both on and off the court/field. What gives me the most joy is our family dinners; I enjoy cooking and it's the best part of my day for us to connect with one another!
What kind of advice would you have for a soon to be college graduate?
Trust your instincts, you already know what you need to do to pursue your goals. Do not seek permission to pursue your goals, pursue them with passion! And just as importantly, always surround yourself with people who help you be the best versions of yourself. Avoid those who don't.